I say YES. 
The answer:
Repeat after me….
"I am worthy and deserving of ALL life has to offer.
I am limitless.
I am important.
I am loved.
I am enough."
So this question… Can you really have it all? You do realize that even entertaining the thought of lack is crazy, right? Of course, you can have it all.  You're the f'ing light.  You're made from energy.  And can shape and create this life any way you choose.
You create your thoughts.  Your thoughts create your intentions.  And your intentions create your reality. 
Of course, you can have it all. No one ever said it was easy.  That this life or 'having it all' would be a piece of cake.  But if there's one thing I know for sure it's that we were made to do hard things.
We're designed to persevere and to live abundant, prosperous, joy-filled lives. That power lies within each of us. By shifting our beliefs and looking at life from a soul level perspective we understand that we are powerful beyond measure and that anything really is possible. Can we really have it all?
Repeat after me:
"I can.  I will.  Watch me." 
Having it all comes easy to me.  And it can for you too.
If you're ready….really ready to have it all.  Then you need to take the first step.  And figure out what's getting in the WAY of your next level life.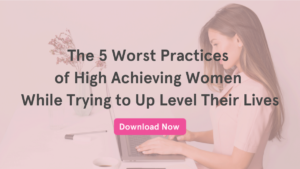 Check out this instant download of the 5 Worst Strategies High Achieving Women Implement While Trying To Up-Level Their Lives.  So you can avoid these very common mistakes.  (I'm SURE you're doing #2) Remove the obstacles and you're one step closer.  Let's get you there.