Over the last 10 years, deep in my own personal growth work, I've finally designed exactly what I need in order to keep my happiness in check. 
My "happiness non-negotiables". 
Here are mine:
#1. Regular daily exercise. I'm sure you know why this is the first one for me. It not only releases endorphins that help you feel amazing but it also makes you feel like a badass. There's nothing that compares to pushing your body physically beyond where you thought you could.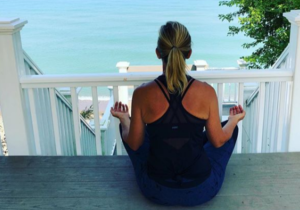 #2. A healthy, connected, inspiring morning routine. The way I "prime myself" every morning makes a huge difference in how I go about my day. And how prepared I am to face any challenges that can, actually that will, come up. Meditation. Gratitude. Affirmations. Music. Lemon water. Visualization. All of that in one bundle is a non-negotiable for me. 
#3. Working on my thoughts. I've been playing this game for almost 30 years. Yep. Three decades of work on my mindset and my thoughts. And I'm not done. I will never be done. Figuring out how to consciously direct your thoughts. And to consciously course-correct your thoughts is the biggest game-changer of all. And therefore a massive non-negotiable for my happiness. The Byron Katie work is it for me!
#4. Me time. I might still be technically "happy" but I feel really OFF without any me time. Time totally alone. To self reflect. Not to work. Not to complete a project. But to catch up with ME. To let my mind catch up with my soul and my life. 
#4. Lots of water and healthy food. I don't always nail this. But when I do I feel AMAZING. I can feel so out of sorts
 when I eat a lot of processed foods or too much sugar or even caffeine. The jittery edgy feeling is not fun. So this is a big one too. What we put into our physical bodies definitely helps determine our inner state and internal happiness. 
#5. Connection. Similar to me time in the sense that I can go without it, but I just won't feel fueled properly. If I'm spending too much time with kids and no adults, if I don't have deep intimate conversations, game over. 
What are your happiness non-negotiables? Comment this post. I would love to hear from you!