As they say being a parent, 'the days are long, but the years go by FAST."
I've really noticed that this year.  My son is 10 and doesn't feel young anymore.  My daughter is 7, going on 17. How did this happen?  

I know you get it.  
What I'm trying to do is slow time down.  By getting really present. And looking at everything as a gift.  

What if we really did that?  Woke up every morning grateful for all our gifts.  

For this life!  
For these bodies.
For running water and electricity.
For the food in our fridge.
And the roof over our heads.
And the boy in the basement playing Fortnite.
And the love in our life.

And the paychecks.
And the snowfall.
And the Christmas cookies.
I mean really.  We are SO blessed.  
No one reading this is not blessed beyond measure.  You're probably reading this from the comfort of your own home or apartment.  On a smartphone or computer. Drinking wine or tea or coffee. Really. WE ARE SO BLESSED.  

If we can just come back to that more often.  Like when we're stressed about money. Or we're yelling at our kids.  Or we're thinking we're fat. Or we're feeling like a bad mom.

Just come back to our blessings.  And all will be ok.

After all, we got here by focusing on what we want.  So let's focus even more on what we're grateful for. And see what we create from there.  

Today I'm more grateful than ever to have you on this journey with me.  This parenting thing ain't for sissys. I realized right when I had my son that I needed a village.  A sisterhood. And I'm grateful every day that I build this POWERFUL positive one.

Thanks for believing in me Mommas.  And for believing in yourself. And making Christmas about so much more than just gifts.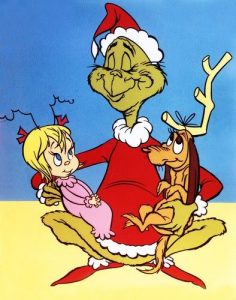 "And the Grinch, with his Grinch-feet ice cold in the snow, stood puzzling and puzzling, how could it be so? It came without ribbons. It came without tags. It came without packages, boxes or bags. And he puzzled and puzzled 'till his puzzler was sore. Then the Grinch thought of something he hadn't before. What if Christmas, he thought, doesn't come from a store. What if Christmas, perhaps, means a little bit more." 
― Dr. Seuss, How the Grinch Stole Christmas!

Wishing you all the happiness your heart and hands can hold this holiday season and beyond.  
YOU. ARE. A. GIFT!  
Steffani