I know what you're afraid of…..
Working with hundreds of high achieving women who are already living a great life, they have all shared one common big, scary, daunting fear….
What's that fear?
Not living up to their true potential.  
Yep.  Basically, we're all afraid of playing small.  AND WE'RE PLAYING SMALL.
We're afraid of not really living this life to the FULLEST.
We're afraid of not serving from the depths of our soul.
We're afraid of not taking full advantage of this life and all it has to offer.
We're afraid of not really showing up as all we know we can be.
Essentially our soul is longing for something MORE and we're pulling away.  Instead of leaning in.  
I know this because I've felt it too.  A few different times in my life.
Once when I was afraid to get married and have kids.  I'm the minority here I know.  I was so afraid that it would be a shit show.  That I'd marry someone like my Dad who was an alcoholic and someone who would never be there for me.  And that raising kids would be WAY too hard and I wasn't up for the challenge.  I would for sure be terrible at it and was honestly just terrified.  For many years (10 to be exact) I pulled away and tried to avoid the inevitable – the Universal assignment that I knew was out there for me.
Then I leaned in.  I married the man who had been in love with me since I was 15.  The man who told me when he met me that I was the one.  The man who got sober for me.  Who always ALWAYS showed me that I was enough and that I was everything to him.  And we had 2 kids together.  Even though I was scared.  Even though I wasn't sure I'd be good at it.  Even though there was so much unknown. I still leaned in.
Why…. Because my soul needed it.  The call would not stop coming.
And then again.  When I had an amazing career that I thought I would stay in for the rest of my life.  I got another call.  To leave and start my own coaching business.  Even though it was fulfilling.  And I made great money.  And I loved what I was doing.  And I loved who I was working with.  I still heard the call.  And eventually listened.  And finally leaned in.
When we lean in instead of pull back we come face to face with our biggest fear of not living up to ALL THAT WE CAN BE.  And coming face to face with that fear is the only way we can move through it.  
No one has ever regretted facing a fear.  None of my clients have ever regretted STEPPING UP and stepping into their full potential.
And here's what I learned.
I didn't have to be all I thought I needed to be in order to lean in.  I could never BE an amazing Mom before I became a Mom.  I didn't have to be a successful entrepreneur and coach before starting my business.  I just had to take the first step.  And I would BECOME it along the way.
When these fears show up.   When we hear the call of a Universal Assignment, we have to lean in.  And BECOME all we desire along the way.  
One more big reminder.
We can't avoid the call.  The Universal Assignment will keep showing up for us.  The only way THROUGH it is to face it.  Head on.
Step up.  Lean in.  Face your fear.  And all those other motivational quotes.  Because we only have ONE LIFE.  So let's live it to the fullest.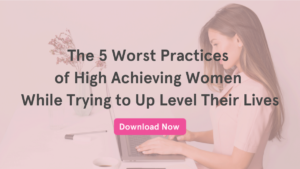 If this resonates with you.  And you're ready to answer the call, check this out.  I have a FREE download of the 5 Worst Practices High Achieving Women Implement While Trying To Up-Level Their Lives.  Download this pdf so you can avoid what most women don't while talking your life to the next level.
Then go out there and JUST DO IT.  (The last motivational quote I swear.)